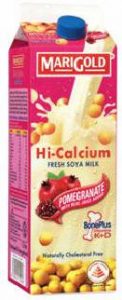 Consumer demand for soya milk is undergoing a renaissance in South-East Asia.
New product launches and marketing campaigns are reinvigorating product sales. Soya bean drinks have been popular soft drinks for decades in countries like Singapore and Thailand, however increased product segmentation is leading to new soya drinks being launched as dairy alternatives and functional beverages.
Soya milk has become highly popular as a dairy milk substitute in Singapore and Malaysia. Pasteurised soya milk is competing strongly with fresh milk on retailer shelves. The success of fresh soya milk has led the leading supermarket chain in Singapore to launch a private label product. NTUC Fairprice is the first retailer in the region to market soya milk under its own brand.
Organic Monitor expects more retailers to follow suit as more consumers become accustomed to soya milk as a dairy alternative.
Functional beverages comprise most new product launches. Manufacturers are capitalising on the health benefits of soya by launching fortified soya drinks. Fortifications include vitamins, minerals, omega acids and fruit & vegetable extracts.
Marigold soya milk with pomegranate juice epitomises this trend. Malaysia Dairy industries launched the functional soya drink in Singaporean retailers a few weeks ago. The Marigold brand is highly established, representing a range of fresh juices and soya milk.
The first-ever pomegranate flavoured soya milk is positioned as a functional health drink. The fresh soya milk is fortified with vitamins K, D and Calcium. Pomegranate is widely regarded as a 'super-food' because of its antioxidant properties and rich nutrient content. The launch has been supported by an extensive marketing campaign involving media advertising and promotions.
Another novel soya drink, Nutrisoy Red Bean Soya Milk was launched by F&N Foods a few months earlier. The functional soya drink is fortified with Calcium and amino acids. Red bean is high in fibre and is considered by traditional Chinese Medicine to nourish blood and reduce water retention.
Other Asian countries are also experiencing a flurry of new product launches. A number of soya drink blends involving corn and fruit & vegetable juices have been introduced in the last year. In Thailand, manufacturers have launched soya drinks with aloe vera, black sesame and honey to give them a functional dimension. Black sesame soya milk has become one of the most successful soya drinks in the country because of its taste and health benefits. Black sesame gives soya milk a nutty flavour, as well as providing a rich source of manganese, copper, tryptophan, iron and fiber. Black sesame is highly regarded in Asia, believed to be the oldest condiment known to man.
Functional soya beverages are also being launched for specific consumer segments. For instance, a soya milk with collagen was launched by an Asian company earlier this year. The fortified soya drink is targeted at young women since collagen is associated with skin regeneration and beauty.
Soya drinks are receiving a functional make-over as the South-East Asian market becomes increasingly fragmented. Manufacturers and retailers are introducing soya drinks for specific consumer segments. Market winners will be those companies who manage to innovate and continue to push market boundaries.
Related reports…
#5202-50 The South-East Asian Market for Soya Milk & Non-Dairy Drinks
#1002-50 The  European Market for Soya & Non-Dairy Drinks

Posted: September 28th 2007
For permission to publish our research insights, please contact our media department