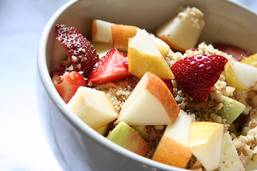 The new equivalency agreement between EU and US organic standards is considered a major milestone for the international organic food industry.
The two regions comprise over 90 percent of global sales, however bilateral trade has been hampered by non-recognition of standards. Organic Monitor expects the new trade arrangement to have a significant impact on international trade of organic products.
Signed in Nuremberg (Germany) last week, the trade arrangement recognises the integrity of organic systems in both regions. It allows organic products meeting USDA NOP standards to be marketed and labelled as organic in EU countries, whilst EU certified organic products are also recognised as organic in the US. The USDA Organic seal and EU Organic logo can be placed on such products, although labelling requirements in the destination country must be met.
By opening up the two largest markets for organic products to each other, the arrangement will facilitate trade of organic foods between the US and EU. The two regions have the largest organic product markets, however Organic Monitor estimates bilateral trade represents less than 5 percent of global organic food sales.
Although the largest consumers, Europe and North America are not the main producers of organic crops. The two regions have just 30 percent share of international organic farmland. Organic farming is practiced in 160 countries, with organic farmland totalling 37 million hectares. Most production in Asia, Latin America and Africa is destined for these two regions. A major question is how production in these regions will be affected by the new trade arrangement, since it only covers organic products made and packaged in Europe and North America; products originating from other regions made according to USDA Organic / EU standards are excluded.
Coming into effect on June 1st, the trade arrangement also does not cover organic aquaculture products, wine and personal care products. Technical issues concerning contamination, especially by genetically modified organisms have also yet to be resolved.
Organic Monitor sees organic farmers and food companies in Europe and North America benefiting most from the trade agreement. For the first time, producers will have access to the entire global market without the need to re-certify or adopt new organic standards. Increases in organic farmland are expected in the US as well as EU countries that have export-geared organic food industries.
The biggest winners, however are likely to be consumers. Supply-demand imbalances are a regular feature of the organic food industry, resulting in frequent price fluctuations. Greater supply, especially of commodities, will have a stabilising effect on organic product prices. Apart from lower prices, consumers will benefit from wider product variety. European consumers will be able to buy American organic products, whilst popular European products like pasta, chocolates, and beverages will slowly make their way into American store shelves.
As such developments take place, 2012 may well be remembered as the year that the organic food industry became truly global.
Sustainable Foods Summit
An update on the global market for organic food & drink is regularly given in the Sustainable Foods Summit. The aim of the summit is to explore new horizons for eco-labels and sustainability in the food industry. For more details on upcoming editions, visit the website
Posted: February 22nd 2012
For permission to publish our research insights, please contact our media department