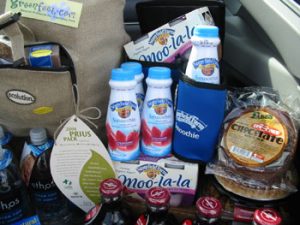 Stonyfield Farm, the world's largest organic yoghurt producer, is building a platform for European expansion by investing in an Irish dairy. It has acquired a 37% stake in Glenisk via its newly formed subsidiary, Stonyfield Europe.
The subsidiary is majority owned by the multinational Danone, which also has 80% equity in Stonyfield Farm. The French company took majority control of New Hampshire-based Stonyfield Farm two years ago after an initial 40% investment in 2001.
The new company is looking to emulate the success of Stonyfield Farm in the North American market. Reporting US $211 million sales in 2005, Stonyfield Farm is one of the largest organic food companies in the world. It dominates the American organic yoghurts market with over 80% market share.
Stonyfield Europe's investment in Glenisk may come as a surprise considering it is a small family-owned dairy. Although Glenisk is the leading organic dairy in Ireland, it uses a fraction of the organic milk used by British dairies. It also has no presence outside its home market.
Stonyfield Farm is believed to have targeted Glenisk for two reasons. By acquiring the Irish organic dairy, it has secured organic milk supply for yoghurt production. The UK market, the target of Stonyfield's expansion plans, is experiencing organic milk undersupply. Supply shortages are leading one leading supermarket to source organic milk from Northern Ireland.
Glenisk also brings expertise in the organic sector to Stonyfield Farm which has little knowledge of the European market. Danone, although a multinational food company, has limited experience in marketing organic dairy products.
Stonyfield Farm may have secured organic milk supply by this investment, however building a strong market position will prove a greater challenge. Large dairies like Arla Foods and Campina Melkunie already dominate the European market for organic dairy products. Finding market openings may prove difficult considering supply chains are well-established.
The UK organic yoghurts market, a major part of Stonyfield's plans, will be a tough market to crack. Established brands like Yeo Valley Organic and Rachel's Organic as well as supermarket private labels crowd shelf-space in retailers. Indeed, stiff competition led Müller, the leading brand of conventional yoghurt, to withdraw within a year of its market entry. Like many other companies, Müller learned that multi-million euro product launches are no guarantee of success in the organic food industry.
Related reports: The UK Market for Value-Added Milk 
                                      The UK Market for Organic Dairy Products

Posted: June 20th 2006
For permission to publish our research insights, please contact our media department