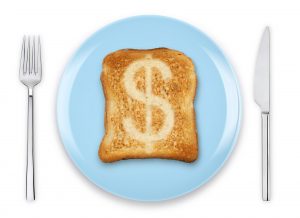 A growing body of evidence shows the disparity between the price we pay for foods and the costs of production & consumption. Market prices do not reflect the environmental, social and health impacts of food products. Sustainable foods have lower such impacts than conventional ones.
A recent true accounting study by EY (formerly Ernst & Young) showed that organic apples have lower impacts than conventional apples to the value of EUR 0.20 per kg. In terms of specific health impacts, the financial advantage of organic apples is EUR 0.14 per kg. There were similar findings for other organic fruits: pineapples, tomatoes, pears, bananas and citrus.
Environmental costs of food production include pesticide use, water & resource use, as well as their associated impacts on soil, pollution, and biodiversity. Organic foods have lower environmental costs because of their sustainable production methods. However, market prices do not reflect these benefits.
Farmer and producer payments, worker rights, land ownerships, and health considerations are some of the social costs associated with foods. Fairtrade certified products, such as coffee and tea, have lower social costs since some of these externalities are removed.
Various studies are showing that sustainable foods have lower impacts – or external costs – than conventional foods. Research by the social enterprise True Price found that sustainable cocoa beans grown in the Ivory Coast have 15 percent lower external costs than conventional beans. Another study showed that sustainable coffee in Vietnam has 20 percent lower external costs than conventional coffee.
A growing number of companies are looking at the hidden environmental and social costs of their products. The trading firm EOSTA has used the true cost accounting approach to determine the external costs of its organic fruits & vegetables. These calculations are being used to demonstrate the environmental and health benefits of organic products. Soil & More has undertaken similar studies to determine the true cost of organic agricultural systems.
A similar exercise by the Dutch ethical chocolate brand Tony's Chocolonely revealed that its sustainable cocoa has a 40 percent lower social and environmental footprint than conventional cocoa. It is sourcing organic and fairtrade cocoa beans directly from farmer co-operatives in the Ivory Coast and Ghana, giving them a premium of at least 25 percent.
By determining the external costs, companies can take steps to remove negative impacts in their supply chains. For instance, Tony's Chocolonely has made a commitment to source cocoa with zero social and environmental costs by 2019.
A major challenge however is marketing communications. Sustainable foods, especially organic products, are considered elitist by some consumer groups. Stating the negative health and social impacts of conventional products could further alienate such consumer groups. Positive messaging maybe the way forward, something that does not always sit well with true costs and impact studies.
The true costs of sustainable food products is regularly featured in the Sustainable Foods Summit. This international series of summits is now hosted in Europe, North & Latin America, and The Asia-Pacific, Australia. More information is available from www.sustainablefoodssummit.com
Posted: May 14th 2017
For permission to publish our research insights, please contact our media department