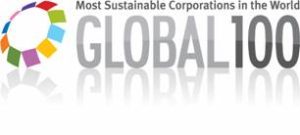 Cosmetic and personal care companies are investing in sustainability as they look to shore up their green credentials. The beauty industry has historically received negative media publicity for unethical business practices, however green appears to have become the new black.
A couple of 2012 industry lists show how far beauty companies have come on the green road. Seven cosmetic companies were in the recent World's Most Ethical Companies List by Ethisphere Institute, up from four in 2011.
Another assessment study by Corporate Knights named Natura Brasil as the second most sustainable corporation in the world. The Corporate Knights methodology involves evaluating corporations on a number of environmental, social and governance performance measures.
Corporate Knights praised Natura Brasil for its energy and waste productivity performance. The Brazilian cosmetics company has been carbon neutral since it introduced its carbon management plan in 2007. It is using the Greenhouse Gas (GHG) standard to calculate its carbon emissions, and then reducing and offsetting by investing in projects that have positive social / environmental impacts. Procter & Gamble, Henkel, L'Oreal and Unilever and were also listed in the top 100 sustainable corporations list.
Sustainability is becoming an integral part of the business of major personal care companies. Procter & Gamble has set ambitious 2020 Sustainability Goals that involve reducing packaging, waste, reliance on synthetic chemicals, and greater use of renewable energy. It rates its suppliers via a sustainability scorecard that helps improve their environmental performance. Unilever has set similar targets via its Sustainability Living Plan, whilst Johnson & Johnson has launched its Healthy Futures 2015 initiative.
As will be shown in the Sustainable Cosmetics Summit, one of the major issues companies face is measuring the environmental footprint of their products. Many cosmetic companies like Procter & Gamble and L'Oreal are using lifecycle analysis (LCA) tools; however, they are discovering multi-ingredient personal care products often have complex footprints that are difficult to accurately measure. The lack of traceability in supply chains is leading new certification trading schemes to emerge.
Some cosmetic companies are going beyond green formulations and ingredients when considering sustainability. The American cosmetic giant Avon has implemented an 'efficiency drive' to utilize its' resources more effectively. By reducing packaging, paper usage and investing in green buildings, it has lowered its environmental impact and improved its margins.
Sustainability has become en vogue in the beauty industry. With a growing number of cosmetic and personal care companies receiving accolade for their green initiatives, questions about benchmarking are emerging. Do initiatives concerning climate change take precedent over biodiversity and ethical sourcing? Do formulations containing natural ingredients take priority over the principles of green chemistry? Lastly, with industry lists only considering large publicly-listed companies, how do privately-owned natural / organic cosmetic companies compare? Such issues will be debated at the North American edition of the Sustainable Cosmetics Summit.
Sustainable Cosmetics Summit
Corporate Knights, Natura Brasil, Procter & Gamble, Avon, as well as leading natural & organic cosmetic companies (including Weleda, Aubrey Organics, Dr. Hauschka, Burt's Bees, Intelligent Nutrients, Eminence Organics, etc.) participated in the 3rd North American edition of the Sustainable Cosmetics Summit. More details on upcoming editions is available from the website
Posted: April 11th 2012
For permission to publish our research insights, please contact our media department