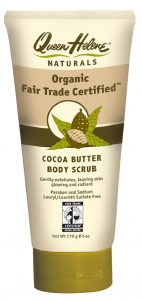 Natural & organic products are taking the American cosmetics industry to new frontiers with the launch of several new products this month. Innovative products are being launched by cosmetic manufacturers and retailers to meet burgeoning consumer demand for ethical & natural cosmetics.
The first-ever cosmetic products with the certified fair trade logo are currently being rolled out in natural food shops. Launched under the Queen Helene Naturals brand by Hain Celestial, the skin care products are made from organic and fair trade cocoa butter. This is ethically sourced from third world producers who are given a premium price for community developments and environmental stewardship. Although fair trade products are nothing new in the US, these are the first-ever cosmetic products with the Trans Fair logo.
Hain Celestial plans to expand distribution of its novel cosmetics to drugstores and mass market retailers at the end of the year. The Queen Helene brand is highly established in the US market, representing natural beauty products since the 1940s.
Authentic natural cosmetics are also being launched under the private label of a mass market retailer for the first time this month. The leading supermarket plans to eventually replace its natural cosmetics range with its own brand lines. Several brands of natural cosmetics are making inroads into mass market retailers, however this is the first dedicated range of private label products.
The move follows the launch of ErbaOrganics organic skin care products by Target stores earlier this year. Even Wal-Mart has stepped in by introducing Natural & Organic Bodycare Oasis sets in 366 superstores. The 4-foot sets house several brands of natural beauty products.
Natural cosmetics are also becoming more visible in drugstores. Be Fine Food Skin care, an innovative range of skin care products has been launched in CVS drugstores. The paraben-free products are made from food ingredients like oats, pomegranate, pineapple and ginger. The novel products are scheduled to be rolled out in supermarkets later this year.
Mass market retailers are jumping on the natural & organic bandwagon to satisfy consumer demand for ethical & safe cosmetics. Consumer interest in these products is rising as they seek natural & organic products and become more aware of the possible dangers of synthetic chemicals in cosmetics & toiletries.
Organic Monitor envisages these novel product launches to have a significant impact on the American cosmetics industry. The 'mainstreaming' of natural cosmetics is making these products widely available in supermarkets, drugstores, and mass market retailers. The success of Queen Helene Naturals could have most repercussions however, especially on cosmetic ingredient sourcing. Fair trade and organic could be the way forward for an industry increasingly looking at social responsibility and sustainability.
Related reports:
 #7021-92 Strategic Insights: The Potential of Fairtrade Cosmetics & Ingredients
#3002-60 The  North American Market for Natural & Organic Personal Care Products
Posted: July 9th 2007
For permission to publish our research insights, please contact our media department