By signing an investment deal with Yeo Hiap Seng, American organic food giant Hain Celestial is aiming to become a major player in the Asian market. The two companies have also declared an intention to pursue joint interests in food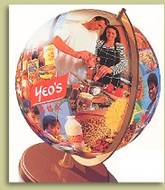 marketing and product development.
Hain Celestial is one of the world's largest producers of organic & natural products, reporting USD 544 million sales in 2004.
Company growth has largely been due to acquisitions, which have seen it expand from organic & specialty foods to natural personal care products. Hain Celestial owns a portfolio of American brands and is developing a strong European presence, however this is the company's first foray into the Asian market.
Yeo Hiap Seng is a Singapore-based producer of food & beverages. With operations in Singapore, Malaysia, Thailand and China, the company's brands are household names in South-East Asian countries. Its product range includes soya drinks, teas, juices, noodles and sauces. Yeo Hiap Seng reported about USD 177 million sales in 2004. Like Hain Celestial, it is a public-listed company.
As part of the investment deal, the two companies will make equity investments in each other. They will also jointly pursue interests in research and development in food & nutrition, marketing, branding and the expansion of distribution channels and geographical markets as well as cross-selling, spanning Asia, North America and Europe.
Yeo Hiap Seng will benefit from the deal as it will open up North American and European markets for its wide product range. Its products have been largely confined to ethnic markets in countries like the USA, Canada and the UK. Hain Celestial's distribution infrastructure will allow its products to enter mainstream and natural food channels.
Hain Celestial is looking to become a dominant force in the emerging Asian organic food industry. Although the company has had no direct presence in Asia, brands like Rice Dream and Celestial Teas have been present in Asian retailers for years. Indeed, Rice Dream is the leading brand of rice drink in South-East Asia.
Partnering with Yeo Hiap Seng will open up Asian markets for Hain Celestial's plethora of organic & natural products, however this is no guarantee of market success. The Asian organic food industry faces many growth impediments. Low production in Asian countries results in most organic processed foods to be imported from outside the region. High freight and distribution costs cause organic products to be priced 100% higher than non-organic products. Consumer demand is hindered by the high price premium, low understanding of organic products, and lack of regulations.
Asian consumers will gain from the strategic partnership as organic products become more widely available in retailers. Yeo Hiap Seng has extensive distribution networks that will take organic products into supermarkets, hypermarkets and small retailers, whereas most organic products are currently marketed by health food shops. Yeo Hiap Seng will face many challenges however in marketing organic products to Asian consumers who are either not aware or not interested in organic products. Getting organic & natural products into retailers is one thing, stimulating consumer demand is another, as many Asian organic food producers have learned.
Related report: The South-East Asian Market for Soya & Non-Dairy Drinks
Posted: August 9th 2005
For permission to publish our research insights, please contact our media department