Yeo Valley Organic's brand strategy is taking organic products to new frontiers in the dairy industry.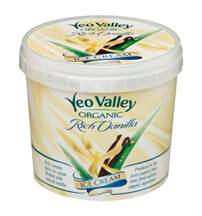 Yeo Valley Organic has re-launched its organic ice-creams and frozen yoghurts as part of its strategy to re-position its organic dairy products. New packaging was introduced in June and marketing campaigns are supporting the re-launch.
The new packaging design is aimed at broadening appeal to consumers who are seeking high-quality dairy products and not just organic variants. Rich vanilla ice-cream and strawberry frozen yoghurts were the first to be re-launched and other flavours are in the pipeline. The brand is to be supported by a £3 million advertising campaign later in the year.
Yeo Valley Organic's yoghurts went through a similar makeover in March 2003. New flavours were launched along with a new packaging design. The move strengthened Yeo Valley Organic's position as the premier brand of organic yoghurts in the UK.  The company has been producing organic yoghurts since 1991.
Yeo Valley's brand strategy is geared towards expanding its organic dairy product sales beyond the organic market. A small consumer base is responsible for most organic food sales and business growth is now targeted at the premium dairy market. Yeo Valley Organic is the forth leading brand in the British yoghurt market and the company aims to develop its brand presence in the ice-cream and frozen yoghurts markets.
Green & Black, the leading producer of organic chocolate in the UK, has adopted a similar strategy and has made inroads into the premium chocolate market. It has developed a wide product range for consumers seeking premium, luxury chocolates. Its chocolates are made from organic and fair-trade cocoa, something which is not strongly emphasised in its marketing campaigns. The organic food retailer Fresh & Wild appears to be taking a similar route, changing its slogan from 'The organic food store' to 'The real food store'.
Yeo Valley Organic has also entered the organic milk and organic cheese sectors as part of its brand extension strategy. It launched organic milk and organic cheddar cheese under its Yeo Valley Organic brand last month. Organic milk is available as whole milk and semi-skimmed milk and is packaged in 1 litre carton packs. It offers mild, medium, and mature cheddar cheese, and it plans to add regional and specialty hard cheeses to the range. Yeo Valley Organic already holds strong positions in the organic butter and fresh cream sectors as well as dominating the organic yoghurt market.
Yeo Valley Organic's brand strategy is likely to cause concern to some companies in the conventional dairy industry. Its strategy shows how organic food companies are becoming increasingly successful in marketing their products, and more importantly how some are becoming just as apt as multinationals in developing strong brand names.
Related report: The UK Market for Organic Dairy Products
Posted: July 8th 2004
For permission to publish our research insights, please contact our media department