The growing importance of climate change is making a number of food companies examine their carbon footprints. Organic Monitor  research shows that some organic food firms are leading the way, undertaking a range of pioneering initiatives to measure, reduce and offset their carbon emissions.
Many organic food firms have sustainability ingrained in their corporate DNA, spearheading a raft of initiatives involving sustainable agricultural projects, ethical sourcing and social investments. In recent years, many are responding to climate change by undertaking a number of carbon management initiatives. Some are undertaking carbon measurement analysis and reducing their footprints, whilst others are adopting novel techniques to offset emissions.
The Sekem Group, the largest organic enterprise in the Middle-East, is improving the soil quality of reclaimed land in the Egyptian desert. By using novel composting technologies, it is successfully improving soil fertility and absorbing carbon dioxide from the air. Other organic food enterprises are also using the novel compositing technologies of Soil & More. As shown at the Sustainable Foods Summit, soil composting can play an important role in combating climate change by sequestrating carbon emissions.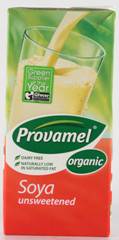 Alpro, a leading organic and wellness company in Europe, has set a goal to become carbon neutral by 2030. Its Provamel brand of organic products already became carbon neutral last year.
The company is using renewable energy and has made changes to its manufacturing facilities to reduce its carbon footprint. It is also offsetting carbon emissions by investing in reforestation projects in Asia. Although Alpro increased volume production by 11 percent between 2008 and 2011, it has managed to reduce its carbon emissions by double-digit levels over the same period.
Many other European organic food companies are also involved in measuring, reducing and offsetting their carbon footprints. Some like Alter Eco and Alpro have set targets to become carbon neutral, whilst others want to provide greater transparency to consumers. Some like the Dutch company EOSTA have come up with innovative labelling schemes for 'climate change' organic fruits & vegetables. Such initiatives are also being undertaken by leading organic food companies in North America, including Stonyfield Farm and WhiteWave Foods.
Yeo Valley Organic, the UK's leading organic food company, recently won the Queen's Award for Enterprise in Sustainable Development in recognition of its sustainability commitment. It has reduced its carbon footprint by developing a carbon neutral heating system for its head office using home-grown Miscanthus bio-fuel and sourcing renewable energy. Yeo Valley Organic is also investing in environmental conservation projects that involve preserving English woodlands.
Some say organic food companies are adapting to changes in consumer behaviour, since organic products do not always meet the needs of sophisticated consumers. A more pragmatic view is that organic food companies are taking the lead in preparing for a low carbon economy. Whatever the reason, pioneers like Alpro and Yeo Valley Organic are setting sustainability benchmarks for all type of companies in the food industry.
Sustainable Foods Summit
Carbon footprints was a major focus of the third edition of the Sustainable Foods Summit. Methods of calculating, reducing and offsetting carbon emissions were covered in the summit, along with positive case studies. More details on upcoming editions is available from the website
Posted: June 3rd 2011
For permission to publish our research insights, please contact our media department