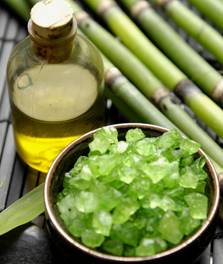 The palette of green materials has expanded considerably in recent years, however cosmetic formulators still face many technical and sustainability issues when using natural ingredients.
Most progress has been made in the area of green emulsifiers and rheology modifiers. Ecovia Intelligence (Organic Monitor) finds that many ingredients are now available to produce elegant skin care emulsions.Preservation remains the number one technical hurdle for formulators of natural and organic personal care products. Although many green materials have become available for preservation, no single material is popular because of variations in product composition. Stability is a major issue, with some green preservative systems leading to discolouration and / or odour changes.
Green surfactants are another problematic area, partly because certification agencies cannot agree on permissible green chemistry processes.
A major development is the move from producing green materials to the use of sustainable processes and extraction techniques. A number of ingredient companies are investing in new processing techniques and sustainable technologies. For instance, the Zeta Fraction technology of AkzoNobel enables natural actives to be harvested from plant materials with a lower environment impact than traditional methods. Mibelle Biochemistry is using plant stem cell technology to extract actives from plants. Its PhytoCellTec technique allows active ingredients to be extracted from rare and exotic plant species in a sustainable manner.
The move towards green raw materials and sustainable processing methods is partly driven by leading operators. L'Oreal and Natura Brasil, two of the largest cosmetic companies in the world, have made commitments to reduce their environmental footprints by the use of green formulations. L'Oreal has pledged to only use new cosmetic ingredients that have a lower environmental footprint then existing ones.
As will be shown at upcoming editions of the Sustainable Cosmetics Summit, the environmental impact of green materials is not always easy to measure. Formulators may wish to replace synthetics with green materials, however the move can have unintended consequences on ecosystems. Palm oil, the most widely used vegetable oil in cosmetic applications, has been responsible for the destruction of tropical rainforests in South-East Asia. Questions also hang over the sustainable sourcing of many natural fragrances, as well as the growing use of food ingredients in cosmetic applications.
Whilst cosmetic formulators and product developers maybe slowly getting to grips with the technical issues associated with green materials, Organic Monitor believes the sustainability issues are likely to persist for many years yet.
Sustainable Cosmetics Summit
Green formulations are regularly featured in the Sustainable Cosmetics Summit. This executive summit now takes place in the major geographic regions of the world: Europe, North America, Latin America and the Asia-Pacific.
Posted: September 30th 2013
For permission to publish our research insights, please contact our media department