Circular economy is becoming the new sustainability buzzword term. There is greater investment from food and personal care companies this year.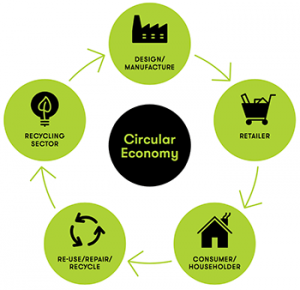 The circular economy refers to a system in which materials and products are reused and recycled, rather than entering waste streams.
Realising its importance, the EU introduced its circular economy strategy in 2018 which plans to have 65% target for recycling and reuse by 2035.
Growing consumer opposition to single-use plastics is making the food industry focus on packaging. Unilever recently announced that it will half its use of virgin plastics by 2025 and increase the use of recycled materials. The Anglo-Dutch company's portfolio of 400 brands currently use 700,000 tonnes of plastic per year. It is already switching its Lipton Ice Tea bottles to 100% recycled plastics in Benelux. The move will save 1,400 tonnes of plastics and contribute 40% less carbon emissions.
The move to a circular economy also involves upcycling of ingredients. New enterprises are creating products using food waste (byproducts). San Francisco-based ReGrained is using brewer's spent grain to make nutrition bars and snacks. Planetarians is another start-up that is producing plant-based protein from upcycled defatted sunflower seeds. At the Sustainable Foods Summit, the company will give details of its new technology that creates high protein flour for applications in processed foods and bakery products.
Food byproducts are also finding novel applications in the personal care industry. UK-based Keracol has created a range of natural dyes & hair care products from blackcurrant pulp. Marketed as 'sustainable hair dyes', Dr. Craft products were launched last year. Hair o'right made its mark by introducing natural hair care products containing coffee grounds. The Taiwanese company is now using goji berry roots and distillers grain in its products. Both companies are receiving recognition for these new products by becoming finalists in the 2019 Sustainable Beauty Awards.
In the personal care industry, there is also a shift towards sustainable packaging materials. Ocean plastic is becoming established with a number of brands recuperating ocean from the sea and beaches to use in product packaging. Henkel is collaborating with Plastic Bank to re-use this material in its new shower gel and shampoo bottles. It is actively marketing the packaging as 'social plastic'.
More innovation has come from The Body Shop, which launching the world's first 'fairly traded' recycled plastics this year. The ethical cosmetics firm has partnered with Plastics For Change to give a fair price to waste pickers in Bengaluru (India) to collect plastic. It will collect 250 tonnes of Fair Trade recycled plastic to use in 3 million hair care bottles this year. The company plans to integrate the materials across its recycled plastics portfolio within three years.
As will be shown at the Sustainable Cosmetics Summit, new certification schemes are emerging for products made according to the circular economy principles. The Body Shop's recycled plastic is certified according to the World Fair Trade Organization. The Dutch organic food retailer EkoPlaza was the first retail chain to have plastic-free aisles. A Plastic Planet is certifying its stores, as well as products that are plastic-free. A number of certification schemes exist for bioplastics, bio-based and compostable materials. Ecovia Intelligence expects the Cradle-To-Cradle (C2C) certification scheme to gain most traction as it is geared towards a circular economy. Aveda, Kiehl's, and Garnier are some of the personal care companies with C2C certified products.
New shopping platforms are being created for the circular economy. TerraCycle unveiled its Loop platform this year. It has partnered with food, personal care and home care companies to provide a new shopping experience to consumers. Products are delivered to consumer households in refillable packaging. The packaging is returned, cleaned and re-used for the same products.
New stores formats are also helping consumers minimise waste. Lush has opened 'Naked' stores in Manchester, Berlin, Milan and Hong Kong this year. The shops have package-free cosmetic products. Neal's Yard Remedies has set up refill stations for popular products in its retail network. There is also a growing number of zero waste stores in the major cities of Europe, North America, Latin America and Asia.
The move towards a circular economy is gaining momentum. Ecovia Intelligence expects to see more such initiatives, involving sustainable packaging materials, upcycling and recycling of nutrients, as well as new retail formats. However, consumer behaviour is likely to be a major barrier. Consumers have been accustomed to frequently buying low priced products that are easily disposable.
The way forward will involve consumers buying sustainable products, extending product lifetimes, reducing wastage, and increasing recycling rates. The question is how soon will consumers be prepared to make such changes?
The circular economy were featured in sustainability summits organised by Ecovia Intelligence. Speakers and participants were from Unilever, Planetarians, Keracol, Hair o'right, Henkel, the Body Shop, TerraCycle, McDonough Braungart Design Chemistry (Cradle-To-Cradle Design), Lush, Neal's Yard Remedies, etc…
Posted: October 23rd 2019
For permission to publish our research insights, please contact our media department