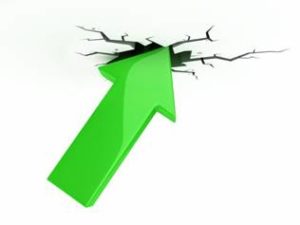 A major challenge that organic and sustainable brands face is how to break through the green glass ceiling. How can such brands break out of their niche status and gain a mainstream following? How can they maintain their core green values, whilst appealing to wider consumer groups? Ecovia Intelligence (Organic Monitor) gives some insights into this growth conundrum.
In Europe, natural & organic personal care product sales have shown similar growth rates, yet they have just 3% market share. Fair trade products, ethical textiles and other sustainable products have similar low market shares because of this concentration of demand.A small group of consumers comprise most sustainable product sales, creating a glass ceiling to growth. For instance, organic food sales have been increasing at double-digit rates in the USA however they comprise just 4% of total food sales.
Marketing appears to be the solution. As shown in Organic Monitor's sustainability summits, brands that can successfully position themselves to attract broad consumer groups are breaking through the glass ceiling. The Belgian firm Alpro is one such success story. After initially finding success with its organic soya dairy alternatives, the Alpro brand was re-positioned to widen consumer appeal. It is currently marketed as a well-being brand, attracting health-conscious and ecological consumers, as well as those suffering from food allergies. Alpro dominates the European functional foods market with its dairy alternatives product range.
In the US, Aveda has been highly successful with its professional range of natural personal care products. Launched in 1978 by Horst Rechelbacher when few consumers were aware of natural & organic products, Aveda products were marketed on their plant ingredients and performance. Like Alpro, Aveda leads in many areas of sustainability: it is the largest user of recycled plastic in the beauty industry and is one of the main buyers of organic essential oils in the world. Today, Aveda is the second leading hair salon brand in the US, with sales spread to almost every continent.
Since its launch in 2005, Bio+ has grown to become the leading organic brand in the Netherlands. Its popularity is because it is positioned as a lifestyle brand, with organic not the main proposition. It was the fastest growing brand in Dutch supermarkets in 2012, and ranked 39 in the Top 100 brands in the country. Other organic brands, such as Hipp, Weleda, and Green & Black's, have also gained a mainstream following because they have not focused on the green consumer segment.
Retailers are also widening consumer appeal for their ethical private labels. The Naturaplan brand of Coop Switzerland now comprises almost half of all organic food sales in the country. Sustainable products – including textiles and household cleaning products – have over 10% market share in Coop Switzerland stores. In Germany, DM drugstores have successfully positioned the Alverde brand of natural cosmetics; it is now the premier private label of certified natural cosmetics in Europe. Whole Foods Market, the largest natural & organic food retailer, has also been successful because of its broad customer base.
Expanding the small green consumer segment will be fundamental to the long term growth of organic & sustainable product industries. In the interim, Ecovia Intelligence (Organic Monitor) advises brands to follow the pioneers and focus on marketing to reach out to new customers.
Sustainability Summits
The challenges faced by organic and sustainable brands are regularly featured in the Sustainable Cosmetics Summit and Sustainable Foods Summit. These executive summit are now hosted in Europe, North & Latin America, and the Asia-Pacific.
Posted: April 4th 2013
For permission to publish our research insights, please contact our media department