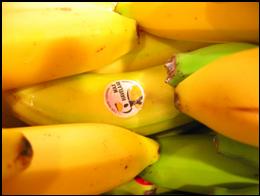 European supermarkets are investing heavily in fairtrade products, with most commitment going to bananas and beverages.
A number of leading supermarkets are committing to selling only fairtrade bananas in their stores. Co-op Switzerland was the first to convert all its bananas to fairtrade in 2004.
The UK now has the largest market for fairtrade bananas because of similar commitments by Sainsbury's and Waitrose. Over a quarter of all bananas sold in the UK are now fairtrade; the highest market share for any EU country.
Fairtrade initiatives by retailers aim to capitalise on the rise in ethical consumerism. Fairtrade products are popular as growers are given a fair price and profits are channelled into social projects. Over 1.5 million producers and workers in 58 developing countries are involved in producing certified fairtrade products.Sainsbury's is the frontrunner in the UK market. The retailer has the highest market share of fairtrade product sales. Apart from bananas, all its coffee, red label tea, sugar and coconuts are fairtrade. It also plans to convert its remaining tea and hot chocolate to fairtrade by 2010. The supermarket also set up a Fair Development Fund last year. The EUR 1.3 million fund supports fairtrade initiatives in African countries.
With global sales expanding by 47% to EUR 2.3 billion in 2007, the market for fairtrade products looks to follow the startling growth of the organic products market. Global sales of organic food & drink surpassed the US $40 billion mark for the first time in 2007. Although the organic and fairtrade product markets are driven by ethical consumerism, there are many differences between them.
Organic standards are based on a controlled production system, whereas fair trade standards are based on a pricing mechanism that benefits third world growers. The major advantage fairtrade has over organic is that it involves one universal standard. Organic standards have wider implications, covering agricultural inputs, production methods, ecology and animal welfare. Both standards however involve eco-labelling in which certified products have clearly visible symbols and logos.
Both the organic and fairtrade product markets are showing high growth, however future growth depends upon how much the standards diverge or converge. There are already calls for organic standards to encompass social issues like child labour and environmental issues like carbon footprints. Likewise, fairtrade standards could also include ecological and sustainability aspects.
Standards are likely to evolve to encompass some of these attributes. In the meantime, European retailers are currently taking advantage of ethical consumerism by playing both the organic and fairtrade cards.
Related report: #1002-42 The European Market for Ethical Fruit & Vegetables
Posted: June 11th 2008

For permission to publish our research insights, please contact our media department