Natural personal care, supplements and organic food is now mainstream, with New Zealand poised to capitalise with its clean and green image, say experts.
Amarjit Sahota of London-based research and consulting firm, Ecovia Intelligence (formerly Organic Monitor), said the country was well set to capitalise on growing demand for greater sustainability in products by consumers in a visit to Nelson.
"The organic food market for example was worth US$20bn globally over a decade ago, and that has grown to $82bn today. These products have moved out of the health food shops and into the supermarkets with the big conglomerate companies producing their own lines. Multinationals are taking it very seriously, but New Zealand firms are in a good position because of the quality of ingredients and its healthy reputation."
Sahota was peaking at the Natural Products NZ conference and awards. Winner of the supreme award and also named exporter of the year was NZ Health Manufacturing – a specialist manufacturer and packager of gels, tablets and powders.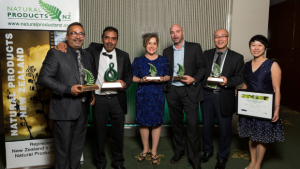 Absolute Essential won the sustainability prize with Blackmores NZ picking up the innovation in marketing award and GMP Pharmaceuticals honoured for its science and technology.
Alison Quesnel, Executive Director of Natural Products New Zealand says Kiwi firms face greater competition but also more opportunities as organic products become mainstream.
Executive director of Natural Products NZ, Alison Quesnel said: "The sector is very vibrant at the moment. Finished goods, such as oils, personal care products and dietary supplements are doing very well. Exports have improved a lot, particularly as regulation is very tough in China for example.
"As more players enter the market there are challenges but also opportunities in getting ready for the future.
"Big companies want to work with small firms, and there is a strong case for authenticity and transparency when setting up their supply chains. There's a demand for more proof of quality."
Related Insights: Green Acquisitions set to Continue
Source: Stuff (01/05)