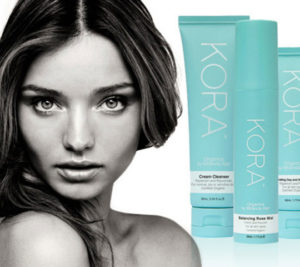 Supermodel Miranda Kerr has launched her Australian organic skincare brand KORA Organics in the Chinese market.
The launch was done via a live-stream in a Tmall store in China. The event attracted more than 223,000 live viewers, with KORA Organics offering exclusive giveaways for spectators.
"From my experience over the years, I have come to believe in and appreciate a holistic approach to overall wellness, and the connection of the mind, body and skin," Kerr says.
This kind of health-focused lifestyle philosophy is soaring in popularity among Chinese consumers, with last weekend's Tmall Beauty Summit reporting that premium health and fitness products are more popular than ever with young Chinese women.
"The appetite for natural and organic products in China continues to grow, and skincare is no exception" says Maggie Zhou, managing director of Alibaba Group Australia and New Zealand.
With a growing awareness of health and well-being in China, Tmall Global is hoping to capitalise on luxury international brands seeking to enter the market. Tmall Global helps international brands like KORA Organics sell directly to Chinese consumers. For more than 80 percent of brands on the site, these virtual flagship stores were their first foray into the Chinese market.
"KORA Organics is a proudly-owned Australian brand whose certified organic and natural products speak directly to the growing demand from many Chinese consumers for clean and green Australian products" Zhou says.
KORA Organics is promoting certified organic and natural products, formulated with herbal extracts, essential oils, and vitamins. KORA's products are certified according to the COSMOS standard, which guarantees the absence of toxins, synthetic pesticides or chemicals. In Australia and the United States, KORA Organics is stocked in more than 200 Sephora stores, and by the end of 2018, the brand hopes to be in place in over 2,500 stores across 25 countries.
For now, KORA Organics will be entering China exclusively through Tmall, hoping to reach a growing base of Chinese consumers seeking healthy and organic skincare products before everyone else does.
An update on the Chinese / Asia-Pacific market for natural & organic cosmetics will be given at the Asia-Pacific edition of the Sustainable Cosmetics Summit, hosted in Hong Kong on 12-13th November 2018. Other editions of this international series will be hosted in North America (16-18 May, New York), Latin America (25-27 June, São Paulo), and Europe (5-7 Nov). More information is available from www.sustainablecosmeticssummit.com
Related Report: The Asian Market for Natural & Organic Cosmetics
Source: South China Morning Post (13/03)