Sales of Fairtrade products in the UK have grown for the first time since 2013, whilst the Coop gets ready to become the first supermarket to use only Faitrade cocoa in its own-brand products.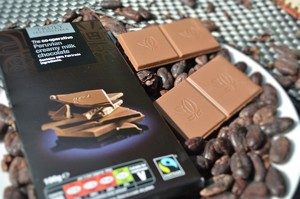 The boost in Fairtrade sales comes despite falling sales of ethically sourced tea and cocoa – and is driven by the increasing dominance of Fairtrade bananas. It follows declining sales in 2014 and 2015 when consumers were reining in spending in favour of cheaper alternatives.
In the UK, bananas are by far the most popular Fairtrade products. Their sales volumes increased by six per cent last year, according to new figures from the Fairtrade Foundation. Sainsbury's and Waitrose now only stock Fairtrade bananas. The UK's biggest supermarket, Tesco, started marketing them last year.
Michael Gidney, the chief executive of Fairtrade, said: "We are in growth despite tough economic times and while the grocery market continues to be in disarray. There is a sense of businesses committing to Fairtrade backed by unstinting support from the public."
Falling sales of tea and cocoa were partly the result of "changing habits", says The Guardian. Consumers, particularly young people, are drinking less tea as the coffee craze continues. Fairtrade coffee sales rose by eight per cent last year, with Lidl stocking it again after taking 12 months off and Starbucks launching a Fairtrade version of the Seattle Best Coffee label it delivers to offices and other businesses.
Meanwhile, the Coop says it will switch entirely to Fairtrade cocoa in its 200 own-brand chocolate products in May. Brad Hill, Fairtrade strategy manager comments: "When we consider that demand for cocoa is set to rise by 30 per cent over the next three years alone, it is imperative that we keep moving forward with sustainability initiatives in order to shape this industry."
The rising sales of 2016 will trigger about £30m (USD 36m) in premium payments on top of the fair price already paid to producers for goods. These will be used for social development projects in developing nations that include Malawi and the Dominican Republic.
Ecovia Comment
The Coop is applauded for making a commitment to Fairtrade cocoa. It is one of a growing number of supermarkets in Europe making sustainable sourcing commitments for its own brand products. Expect to see the market share of Fairtrade ingredients grow in the coming years.
Sustainable sourcing of ingredients is a regular feature of the Sustainable Foods Summit. The next European edition will be hosted in Amsterdam on 1-2nd June, the 3rd Latin American edition will take place in São Paulo on 18-19th September, and the Asia-Pacific edition will be hosted in Singapore on 29-30th November. More details are on the website
Related Insights: What is Future Direction of Sustainable Sourcing?
Source: The Week / Ecovia (27/02)