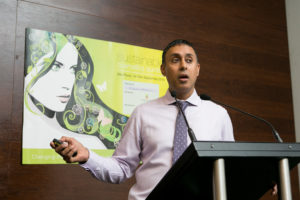 Taking place in São Paulo on 25-27th June, the Latin American edition of the Sustainable Cosmetics Summit will feature natural ingredients & cosmetics, and sustainable packaging.
For the first time in the region, the executive summit will showcase developments in organic cosmetics and sustainable packaging in a high-level forum.
Brazil, and the wider South American region, has become an important source of organic ingredients; however, the market share for natural & organic cosmetics remains small.
Research by Ecovia Intelligence shows Latin America generates less than 5 percent of global natural & organic cosmetic revenues. Amarjit Sahota, Founder of Ecovia Intelligence (event organizer), will host a workshop on the global market for natural & organic cosmetics. The obstacles to market development in Latin America, as well as future growth prospects, will be stated. Export prospects in North America, Europe, and Asia will also be featured.
A dedicated session will discuss the growing use of natural ingredients in cosmetic & personal care products. Maria Harris, Founder and CEO of Instituto Harris, will evaluate the safety issues associated with plant-based materials. Although natural ingredients are now fashionable, their use brings safety risks. Other speakers will cover traceability of agricultural raw materials, sustainable sourcing, anti-pollution skincare, and novel natural actives for hair care applications.
The marketing best-practices session will cover key developments in the sustainable cosmetics arena. Laura Kim from Veganismo Brasil will discuss the potential of vegan cosmetics. Although Brazil is one of the largest meat-consuming nations in the world, the vegan trend is taking off; many Brazilians are shunning animal-based ingredients in beauty products because of ethical beliefs.
Patricia Lima, Founder and CEO of Simple Organic, will share her experiences in building distribution for organic cosmetics. Ming Liu, Executive Director of Organis, will present the latest research on the organic consumer. Research shows that about 15 percent of Brazilian consumers are now buying organic products. With millennials some of the most avid buyers of organic & sustainable products, Ignacio Garcia Zoppi of Tree Intelligence will show how brands can target digital communities. Approaches to identify these communities, and engage with their influencers will be stated.
The Brazilian Institute of Packaging will host a workshop on cosmetic packaging for sustainability. Cosmetic brands are looking at various ways to reduce their packaging impacts; the workshop will look at the use of eco-design approach and sustainable materials. Case studies will be given of brands successfully implementing sustainable packaging solutions. The workshop will be preceded by seminars on packaging waste, measuring packaging impacts, sustainable materials, and closing packaging loops.
The summit will begin with an opening keynote from Hugo Bethlem who will make the case for conscious capitalism: how can it be a force of positive change in the cosmetics industry? How can conscious capitalism help companies reach sustainable development goals? Another seminar by Fiane Cauzzi Brocco will explore the use of biomimicry. How can cosmetic and ingredient firms learn from nature's design and processes to create new products? With microplastics causing havoc in marine ecosystems, some environmentalists are calling for curbs on glitter sales. Frances Sansão will show how Pura BioGlitter provides a sustainable alternative to the Brazilian beauty industry, one of the largest users of glitter in the world.
About the Sustainable Cosmetics Summit
Since 2009, the Sustainable Cosmetics Summit has been covering sustainability issues in the cosmetic & personal care industry. The international series of summits now takes place in the major geographic regions of the world. The fifth Latin American edition will be hosted at the Pullman São Paulo Ibirapuera on 25-27th June 2018. The summit will be in English and Portuguese with simultaneous translation. More information is available from www.sustainablecosmeticssummit.com/Lamerica/
Source: News Release (05/04)