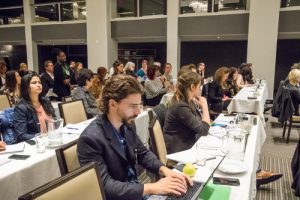 Sustainable sourcing, marketing & distribution, and green materials and will be featured in the upcoming Sustainable Cosmetics Summit, hosted in New York on 16-18th May 2018. The North American edition comprises four dedicated sessions and an interactive workshop.
Professor Rita Colwell from University of Maryland will kick off the Green Materials session with an introduction to skin biomes and their relationship with health & wellness. How can changes in the skin eco-system lead to disease and illnesses? What can be done to strengthen and nourish these biomes? Professor Ilya Raskin from Rutgers (The State University of New Jersey) will explore the opportunities provided by new botanical actives.
The ubiquitous use of mobile devices is leading to new skin conditions caused by blue light and infrared rays. Details will be given of new actives that can protect skin from such radiation and pollution. Mariana Royer, Managing Director of Bio ForeXtra, will highlight the new actives that are emerging from the Boreal forest in Canada. The sustainability issues of sourcing tree-based materials will be highlighted.
Chris Kilham, also known as the Medicine Hunter, will open the second day with a keynote on sustainable sourcing. Giving examples of Amazonian ingredients, he will demonstrate the ecological and social benefits of ethical sourcing. Other papers will discuss biodiversity impacts, social value of cosmetic ingredients, and traceability of agricultural raw materials. With growing risks of ingredient fraud and adulteration, approaches to improve traceability will be discussed. A multinational cosmetics company will share its experiences in implementing a sustainable sourcing program for natural ingredients.
Another session tackles marketing & distribution issues associated with sustainable cosmetics. Jeremy Riggle, Chief Operating Scientist at Mary's Medicinals, will discuss the prospects for cannabis-based ingredients in personal care products. The healing properties of such ingredients will be outlined, as well as issues associated with marketing novel skin care products. A leading natural brand will share its experiences in building distribution in hair salons, whilst a retail chain will describe the retailing challenges. Other speakers will discuss the outlook for clean beauty products, and give digital marketing success stories.
Amarjit Sahota, Founder and President of the organizer Ecovia Intelligence, will host a pre-conference workshop on the global market for natural and organic cosmetics. The latest market and competitive trends will be presented, as well as distribution and consumer developments. An update will be given on natural & organic standards and certification schemes. The business openings in the North American and global market will be highlighted, as well as success stories of brands riding the green wave.
More details on the Sustainable Cosmetics Summit are on the website
Source: News Release (01/03)