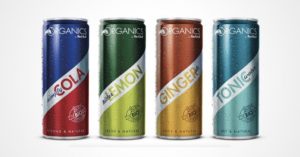 Red Bull has launched a new line of four organic sodas under the Organics by Red Bull brand.
The flavors are Bitter Lemon, Ginger Ale, and Tonic Water. Simply Cola, the only caffeinated beverage in the new line, is made with a blend of natural kola nut, cinnamon, and ginger extracts. It contains 32 mg of caffeine, about a quarter of the amount in the brand's eponymous energy drink, and is made with sugar, not corn syrup.
This new line is a clear break from Red Bull's previous branding. The development of the new sodas not only shows that the brand is "embracing its frequent role as a cocktail mixer," according to the News & Observer, but it also shows that Red Bull is attempting to capitalize on America's ever-increasing desire for organic beverages.
The sodas also take advantage of the ever-growing craft soda market, which is now a US $541 million industry, according to 2016 data from Beverage Marketing.
The products are being launched in two regions – San Diego County and one area of North Carolina – and will also be available nationwide via Amazon. The company said this decision stems from San Diego's "appreciation for wellness, lifestyle, organic and premium consumer products," and the "bustling food scene and appreciation for craft beverages" in North Carolina.
Related Insights: New Distribution Growth Phase for Sustainable Products
Source: Organic Authority (28/03)