Consolidation is occurring in the retail sector of the organic food industry. Carrefour, the leading retailer in France, has bought the So.bio retail chain. In Italy, Natplus has acquired a rival organic food retailer.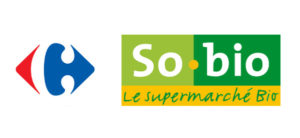 Carrefour, a leading food retailer in the world, has purchased the So.bio organic food retailer for an undisclosed amount. So.bio currently operates eight stores in the south-west region of France. It also plans to open two new stores in the coming months.
The deal is in line with the Carrefour's 2022 transformation plan, in which it plans to generate EUR 5 billion sales from organic products. Carrefour plans to develop the retail brand and expand its presence nationwide. The deal will also allow Carrefour to offer organic products across its distribution chain through So.bio specialist banner, an online sales offer with Greenweez.
In Italy, Natplus has acquired the MelaVerdeBio chain of organic food shops. Natplus, which operates the NaturPlus chain, comprising 24 stores, now plans to further expand its network with the acquisition of 16 MelaVerdeBio stores.
Natplus said it plans to continue to develop synergies between the online channel and its physical stores. According to Natplus founder and director genera Mauro Bruno, the acquisition will provide numerous advantages, such as centralised marketing, use state-of-the-art management software, and the marketing of 200 exclusive products under the NaturPlus private label brand. In addition, the group's central purchasing unit will allow for delivery in 24/48 hours of more than 3,000 products.
Ecovia Intelligence Comment
With over thousands of organic food shops, the European retail sector is ripe for consolidation. There are many chains of organic & health food shops in Europe, however few have developed a significant presence outside their home markets. As the European organic food industry starts to mature, expect to see more such consolidation. The question is whether the retail sector will be controlled by large groups like Carrefour and Amazon or dedicated organic / green enterprises. Watch this space!
Related Insights: Blockchain to Build a Sustainable Food Industry?
Source: Retail Insight Network / ESN / Ecovia Intelligence (16/08)